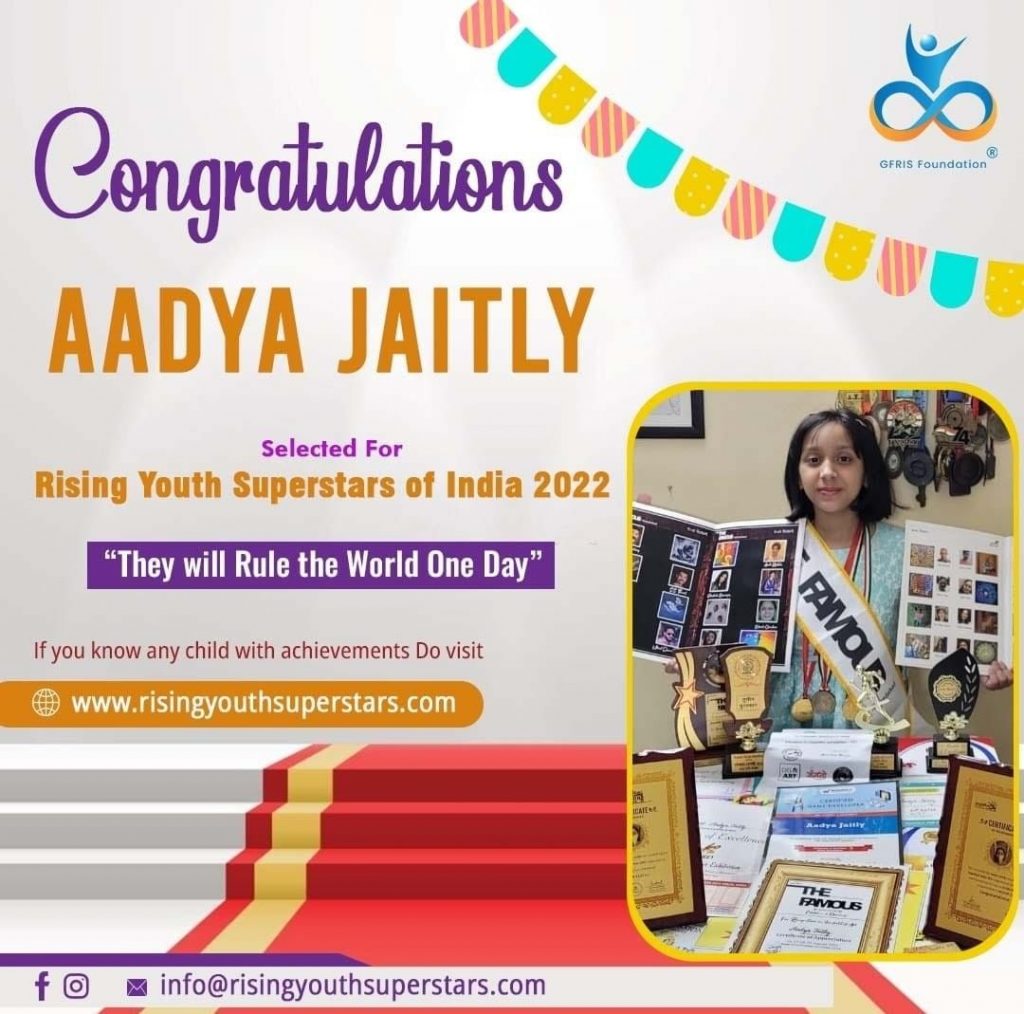 Aadya Jaitly: A Bundle Of Excellence
If one was to visualize an 8-year-old girl being proficient in art, music, athletics, and academics, all at once and almost to the point of being a professional, one is bound to be filled with disbelief. The 8-year-old, NOIDA-based Aadya Jaitly is just such a kid.
Having started at the age of five, Aadya first displayed her liking for, and prowess in art at her school's annual festival. Her first painting was put up for display at the function and it was a proud moment for her parents Vikrum Jaitly and Jyotsana Jaitly. Not limiting herself to only art, Aadya then went on and displayed a liking and passion for music, which she further advanced by being a part of the school choir. Yet again, this was not enough for this 8-year-old wonder.
When it comes to athletics, Aadya is quite a bundle of surprises. She has considerable expertise and practice when it comes to running marathons. She has bagged nine medals in marathons. Moreover, like a diligent student, while managing all of her extra-curriculars, she is still able to score exceptionally well, having won at both national and international levels.
Speaking holistically, Aadya is the living manifestation of the desires of all parents. It seems like Athena herself blessed the child with her powers. If one looks at her family background, it is no surprise that this little bundle of excellence is able to perform exceptionally well at so many things together.
Aadya finds her guiding figures in her parents, other family members, and her teachers from DPS, Sector 30, NOIDA. Considering her several talents, it is no surprise that she has several coaches lined up, all of whom have done an excellent job in helping her develop her skills. While Dr. Samta Sharma and Dr. Jaya Arora have helped her polish her artistic abilities, Dr. Arpita Mukherjee has honed her musical senses.
With all these talents to work on, it is natural for her to be very particular with her time management. Her sketches take about 2 hours while her paintings take about 2 days. Furthermore, she is also enrolled in weekly art and music classes. In terms of music, she also does her riyaaz for 30 minutes daily.
At a tender age of eight, she has bagged several accolades in inter and intra school competitions. She is also a part of Kalaaakar Foundation's youngest artist and Delhi's famous exhibition Delhi Art. Her paintings have mesmerized both parents and teachers alike at several school exhibitions and inter-school competitions. Furthermore, she also has completed Praveshika from Prayag Sangeet Samiti, Prayagraj. Her roadmap for the future includes being a globally acclaimed professional artist. Her parents plan on helping her achieve this goal by giving her a suitable platform such as the incredibly famous Deli Art Club.
Not only this, Aadya is also a certified coder from WhiteHat Jr., with the certification being in Game Development. She has also represented her school in the CBSE Skating Championship.
All her talents and accomplishments combined, it makes one wonder if there is anything that this girl cannot achieve. With such a good record of achievements, it would not be wrong to call her a little bundle of excellence, endowed with mind-blowing capabilities and passions. It would be incredible to see this little wonder accomplish great things in life.