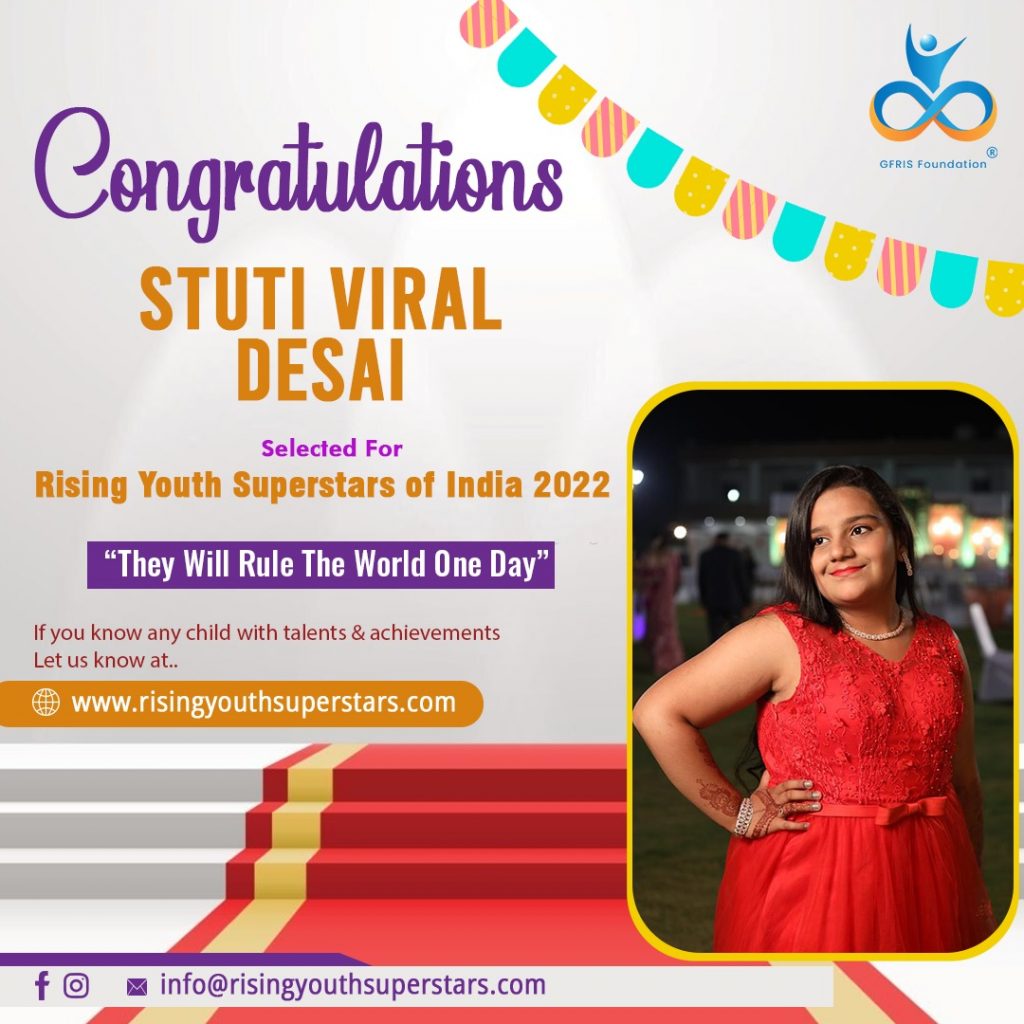 Stuti V. Desai: The Crayon Queen
Invented in 1974, the Rubik's Cube still remains one of the world's most interesting and best selling puzzles of all times. The aim of the game is to align all the colours together, both vertically and horizontally, to form a three by three grid. As fun as it may seem to be, it is quite a challenging game and requires a lot of mental acumen to solve. However, twelve-year old Stuti V. Desai finds herself fascinated by the cube, apart from art, which is her first passion.
Born in Godhra in 2009, Stuti first prominently displayed her talents at the age of three. This was when her father Viral P. Desai noticed the exceptional quality of her artworks. Apart from this, her principal noticed her talent when Stuti represented her school at the inter-school competition and won several accolades for the school. She was encouraged the most by her father who ensured that his daughter got enough space and room for her development and growth.
Family support is extremely important for any child to be able to work towards his/her full potential. Talent does come naturally and can be developed further. However, at the same time, without necessary family support, that development faces many hurdles. In that respect Stuti is lucky, for she is blessed to have a family that does supports and encourages her whole-heartedly. Her family does everything it can to see that Stuti gets the ideal environment to nurture her talents.
Another very important aspect to ensure the proper growth of natural talents is discipline. This includes dedication, time allocation and management, and regular practice. Stuti spends nearly three hours every day practicing her strokes and bettering her output on the canvas. Having started with inter-school competitions, Stuti has now come a long way and is proficient at expressing herself on an empty canvas. When it comes to her academics, she is equally focused and does not let her hobbies come in the way. She balances her academics and her passion incredibly well, and her parents too are extremely satisfied with her approach towards both.
This much dedication and focus is guaranteed to bring rewards and recognition. Stuti has her own entry in the Asia Book of Records, and has also won the All India Ajanta Art Contest. She was recognized as an 'Amazing Kid' in one of her early tournaments and has also won the Katran Art Competition. Her first win came at the Saptak Art Competition and now, she is on her way into the big leagues already.
When it comes to future planning, her parents are very flexible. Her life as a kid is left undisturbed by the social expectations and the pressures of future planning. Stuti has her own set of skills and currently, she can use them freely according to her own wish without having to think about fulfilling any responsibilities that are aimed at 'guaranteeing a good future ahead'. She is also extremely diverse and can play the guitar. Being multi-talented is a good quality as it helps her take her mind off from her routine, albeit passion-driven, activities. This way, she gets to handle all her activities with a much more focused and creative approach.
Having started at three, Stuti has come a long way from being just an amateur artist. She has been honoured with several prominent accolades. Her progress till now leaves no doubt that she will surely attain fame in the field of art, for such immense talent and dedication always bears generous fruits. She is bound to make her family as well as her school proud.