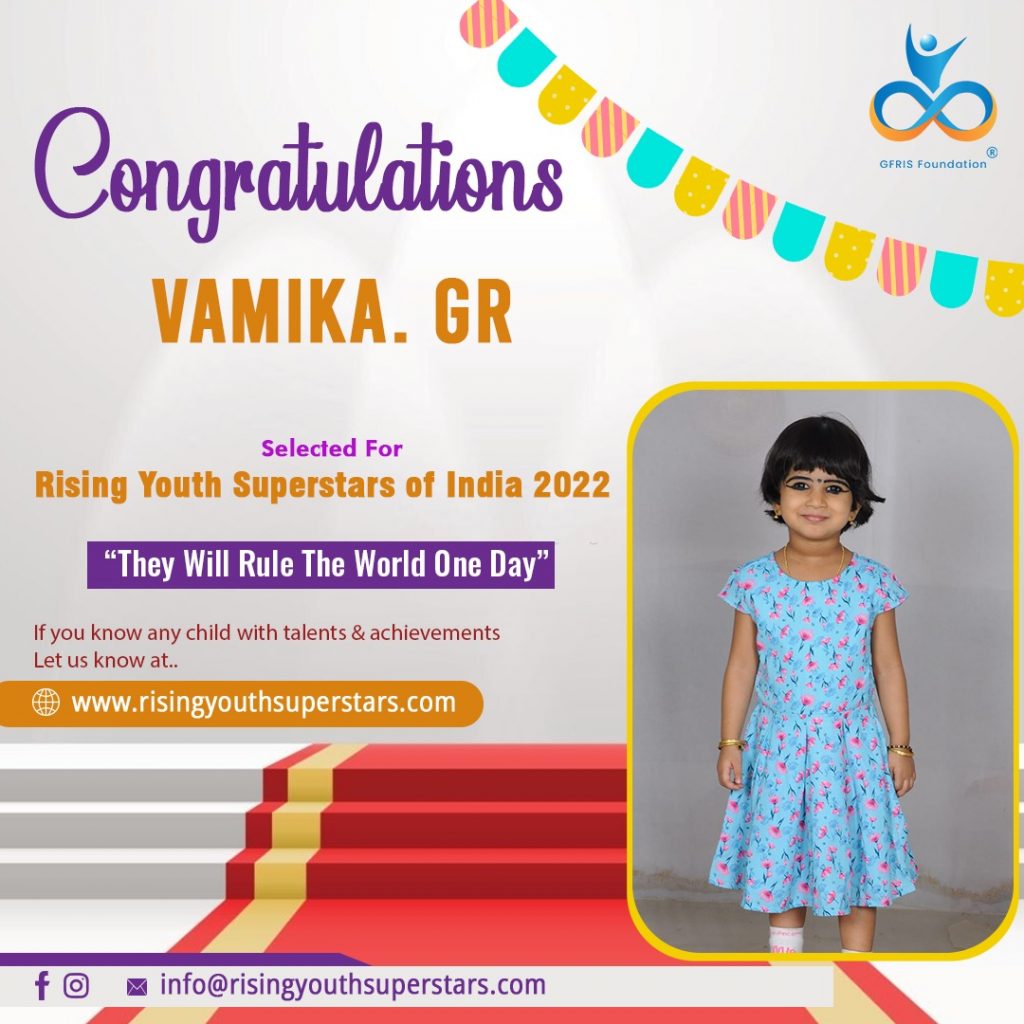 Vamika: The Miraculous Toddler
Making a world record in itself is a marvellous feat. However, to top it all off, making a world record at the mere age of two years and eleven months is simply mind-blowing, which is also how little Vamika's extraordinary grasping power can be best described.
It all started during the COVID-19 lockdown, when Vamika, who was two-years-old at the time, was able to recognize all the fruits, vegetables, and other random objects. When her parents Girijan P.M. and Ritha V. noticed that their daughter was able to grasp more than an average two-year old could, they started encouraging Vamika to put conscious effort into this God-gifted ability of hers.
Vamika had a set routine, which she still follows. It involves her dedicating an hour every day, which she spends sharpening her memory and working on her skills. This little toddler is driven by her passion solely. She loves to explore topics of General Knowledge and likes to colour pictures a lot. Considering that Vamika is just three years old, currently there are no academic obligations that she has to fulfill. This allows her to dedicate herself fully to the development of her skills. She does not have to worry about balancing her studies with her talent and has the liberty to spend as much time working on sharpening her memory as she wants to.
Vamika's sharp memory and brilliant word-picture association skills have not been confined only to her domestic environment. This little wonder has got herself as a record holder in various record journals and books. She has been mentioned in the Kalam World Records, the Indian Book of Records, the Champion Book of World Records, and the Universal Record Forum. The Kalam Book of Records goes on to extensively enlist her various achievements.
She answered nearly fifty-five questions of General Knowledge about India in the English language and is the youngest to do so. She also answered twenty-four antonym-based questions, and further went on to identify personalities, and name animals, countries and capitals, etc. She was also able to recognize and name various vegetables, fruits, vehicles, shapes, and colours, which were pictorially depicted to her. She was able to count from one to thirty in English and named 27 Birth Stars, days of the week, and several words in Hindi. To top it all off, she translated several Malayalam words to English. Essentially speaking, Vamika is trilingual at the mere age of three.
According to the Champion Book of World Records, Vamika was, and still is, the youngest to answer the most number of General Knowledge questions. As per the India Book of World Records, Vamika was able to translate nearly 55 Malayalam words into English, all of this at the age of two years and eleven months when children are barely able to keep up with the alphabets.
Wonderful is an understatement when used to describe the capabilities that Vamika possesses. Any person who witnesses this girl is bound to be left wonderstruck at the sight of what she can do, for it is not something one sees every day. It is as if Kerala was blessed with a super-human when Vamika was born in 2018.
Showing such immensely powerful skills and capabilities at the mere age of three is indication enough that Vamika is not only bound to have a successful and bright future ahead, but will also definitely become an epitome of genius in the coming times. These capabilities are a gift of nature to Vamika, and in return, she herself is a blessing for her parents, her place of birth, and her nation.