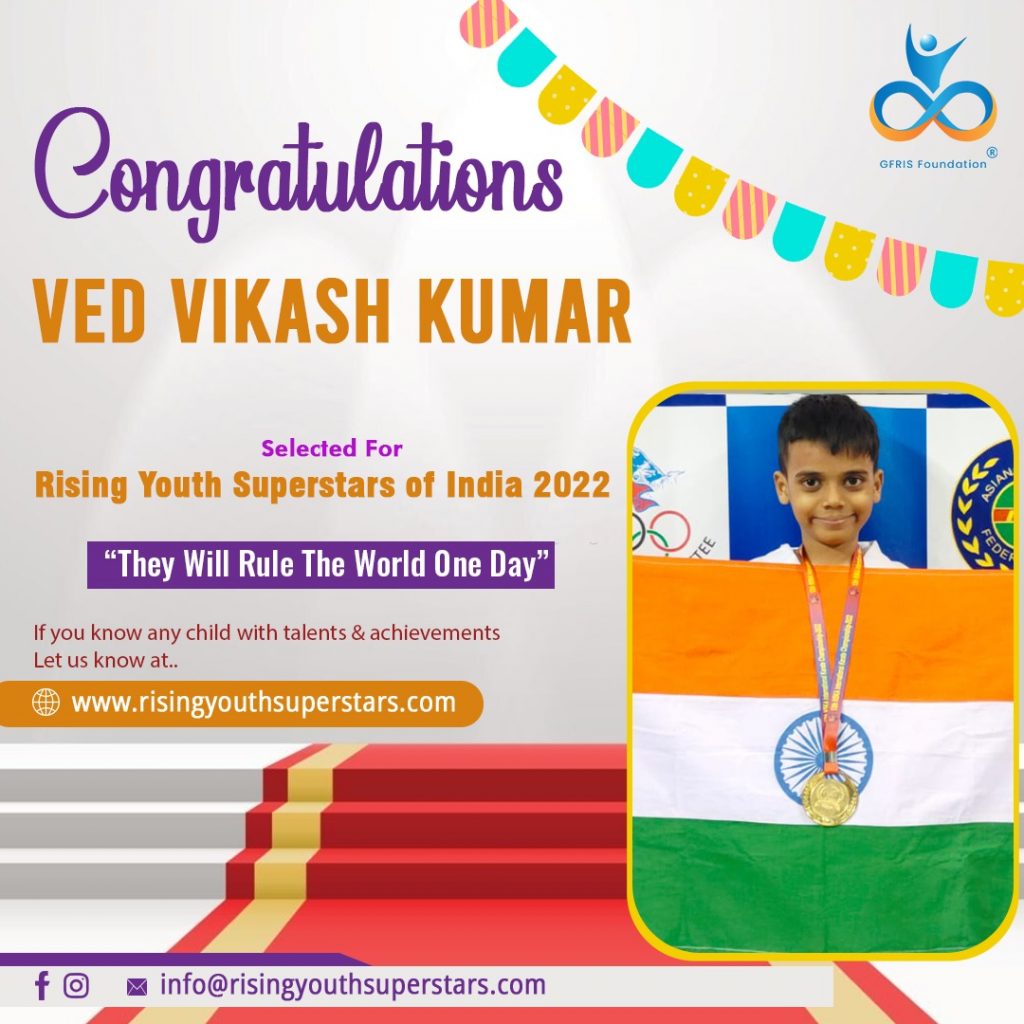 Ved Vikash Kumar: The Undefeated Champion
When the erstwhile Prime Minister of India, Manmohan Singh, was a student, he ranked first in the entirety of his academic life. This feat displayed a very important tool required for achieving greatness – consistency. Seven-year-old, Ambernath-based Ved Vikash Kumar displays a similar level of consistency. Born in 2014, Ved was very intrigued by the act of his to-be coach splitting a brick with his bare hands. Without stopping to give it a second thought, Ved conveyed his interest in Karate to his parents, Nehakumari Prasad and Vikash Kumar, and his sensei, Rahul Prabhat Ranjan. At the same time, his sensei also noticed that he had the potential to become an excellent martial artist and took Ved under his wing.
Ved participated in his first tournament at the age of five, where he won a bronze medal, thereby proving his potential. It is pertinent to mention that ever since that tournament, Ved has won a medal in every tournament that he has participated in. Therefore, the comparison with Dr. Singh stands justified. Ved has displayed not only exceptional prowess but also unmatched consistency in his performance.
His skills and his powerful approach towards Karate motivate the rest of his family members as well. Ved receives a lot of support from his mother and his maternal uncle. Moreover, he has never faced any opposition of any sorts from any of his family members. Even his grandparents are supportive and encouraging, and motivate Ved to maintain his streak and keep working on his skills. His family reasonably expects him to be equally dedicated towards his studies.
Ved himself is a well balanced child. He spends an hour or two every day practising his punches and kicks. After that, he is all for his studies with an additional hour of Abacus practice every day. Apart from all this, Ved is also an all-rounder and keeps himself involved in other sports and physical activities such as cricket, badminton, and cycling. He also loves to draw and occasionally tries his hand at the canvas.
Ved is immensely driven by his passion as well as by his dreams and aspirations, which include representing India at the international level. He wishes to win a medal for India and dreams of the Indian Flag being hoisted high as he receives the medal. One of his major sources of inspiration is Gold-medallist Neeraj Chopra, who recently won the Javelin-throw event at the 2020 Tokyo Olympics and is still the reigning champion.
This drive and fire inside Ved is responsible for several awards and achievements that Ved has won over time. His first win was at the Chhatrapati Karate and Kobudo National Championship, 2019, where he won the bronze medal. Thereafter, he won Gold at the SKIA Shotokan International Karate Championship. He was honoured with the Drona Ratna 'Best Player Award' by Excellent World Records at Haridwar, Uttarakhand, and won Gold at the NSKA International Karate Championship, 2022, held in Kathmandu, Nepal. Currently, Ved is preparing for the upcoming SKIA International Karate Championship, 2022, which will be held in Goa on November 5, 2022.
Apart from his achievements in Karate, Ved has also won several accolades in other domains as well. He secured the first position at the Maths Quiz held at Arya Gurukul School, Ambernath. He also won the second prize at the Science Quiz, and the third prize at the drawing competition in the same event.
Considering his exceptional prowess and unbroken streak of a medal for every participation, Ved can be called an epitome of consistency. His hard work, training, and passion have turned him into an invincible champion and with time, he is bound to get better. He certainly has a bright future ahead. May he achieve his dream of winning Gold for India.